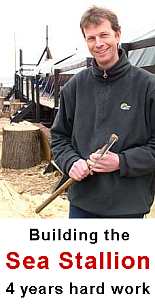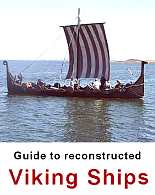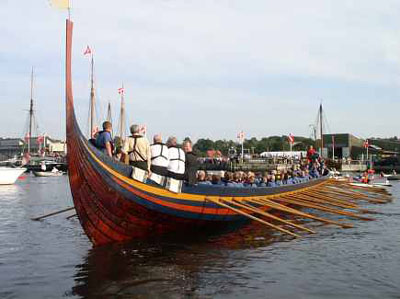 Photo: Michael Borgen
The Worlds largest reconstruction of a Viking ship was launched in 2004 and named by the Queen Margrethe 2nd of Denmark. In 2007 the ship is making the 1000 nautic miles voyage from Roskilde in Denmark to Dublin in Roskilde. Read more about the tour.
Unlike many other reconstructed Viking ships, the new longship is a true-born warship - one that was build to transport large numbers of warriors at great speed to attacks on foreign shores. In a good wind, the ship will probably outsail most modern ships, and even without the aid of the wind, the 60 oarsmen can make it travel at a comparatively fair speed.
The ship is long and narrow, with room for 60 tightly-packed warriors with each an oar, but there is little storage room for provisions or goods, so it is not fit for journeys to Greenland or other distant places.
The original ship Skuldelev 2 of which the Sea Stallion is a replica, is exhibited on the Viking Ship Museum in Roskilde. The ship was build in Dublin i Ireland, and in summer the Sea Stallion sailed to Dublin in Ireland to visit the place where the original ship was build.
In the winter 2007/2008 The Sea Stallion has been exhibited outside the National Museum in Dublin. Read more about the exhibition
In the summer 2008 the Sea Stallion will return to Roskilde on a route going south of England.
His Royal Highness Crown Prince Frederik of Denmark is protector of the ship.
Facts about the Viking ship
Type: Warship - longship, replica of Skuldelev 2

Minimum crew: 60. A full crew is required, as the weight of the men will stabilize the ship.

Maximum persons: 80 - 100

Number of oarsmen: 60

Hight of mast: 14 meters

Sail area: 118 m2

Overall length: 29,4 meters

Weight: 9,2 tons + 6 tons ballast

Width: 3,8 meters

Depth: 1,0 meters

Building: 2000 - 2005

Builders: the Viking Ship Museum, Roskilde, Denmark

Owner: the Viking Ship Museum, Roskilde

Native Harbour: Roskilde, Denmark

Contact: mr. Poul Nygaard, phone (+45) 46 30 02 00

Homepage: www.havhingsten.dk

Terms of hiring: Renting is not possible.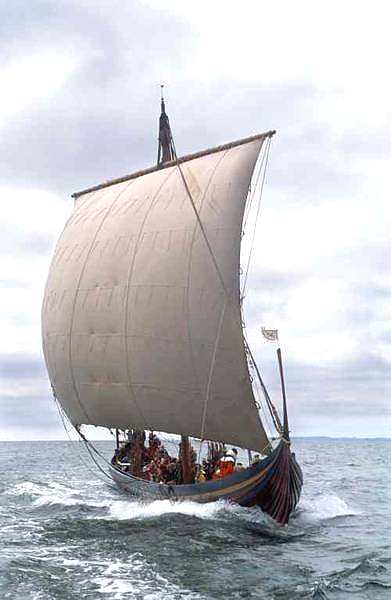 The Sea Stallion for sail in open sea
Photo: The Viking Ship Museum