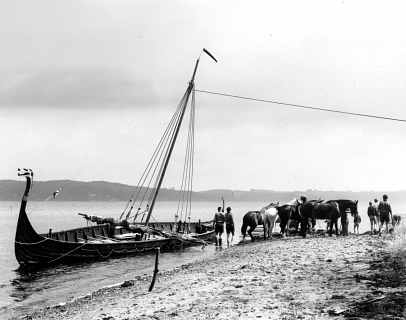 Imme Gram has been tested in many ways. This picture was taken in 1967, when there were attempts taking horses on board. Photo: Ole Crumlin-Pedersen
For more than four decades, the Imme Gram was the largest Danish Viking ship, but it was finally surpassed only when the Viking Ship Museum in Roskilde launched The Sea Stallion in 2004. Imme Gram was built by the scouts of the town of Gram as a replica of the only known Danish ship burial, the Ladby Ship on Funen.
The grave contains little more than a print in the clay, and therefor part of the replica is based on educated guesses, revised as time passed. It was not, though, built in axe-cleaved planks or using replica tools.
Being one of the earliest Danish reconstructions, numerous test sailings were conducted with Imme Gram following the launching. Among other things, the taking on board of horses was attempted.i
The ship's name is derived from it being built by scouts from the town of Gram, while the actual building took place in the forest of Emdrup, earlier known as Imme. The name won such renown that other shipbuilding groups of scouts started naming their ships Imme-, such as the Imme Struer and the Imme Skinfaxe.
The ship requires a large crew; at least 20 oarsmen are needed when there is no wind. In spite of declining numbers in recent years, it is still a ship that can boast a large guild.
Facts about the Viking ship
Type: Longship, replica of the Ladby ship

Minimum crew: 6 persons. Sailing normally only takes place with a minimum of 20 persons, to ensure the nessesary power for rowing.

Maximum persons: 35

Number of oarsmen: 32

Hight of mast: 11 meters

Sail area: 75 m2

Overall length: 21,6 meters

Weight: 6 tons (+ 2 tons ballast)

Width: 3,1 meters

Depth: 0,7 meters

Building: 1963

Builders: Scouts of the town of Gram

Owner: Tønder Ships Guild

Homepage: www.immegram.dk

Native Harbour: Kalvø in the Bay of Genner, South Jutland, Denmark

Boat Guild: Tønder Ships Guild has aprox 200 members and is open to other interested.

Terms of hiring: Not possible. Sailing only with the guild members.