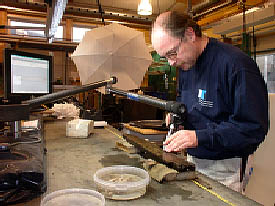 Ivan Hansen using the laser equipment at the archaeological laboratory at the Viking Ship Museum in Roskilde Photo: Michael Borgen
Originally, the Viking Ship Museum was a museum exclusively devoted to the five ships from Skuldelev, found in Roskilde Fjord - the socalled Skuldelev ships.
But five years ago, the museum expanded massively, and next to the Museum building, an artificial island was made - the Museum Island - housing among other things the museum shipyard where the Sea Stallion from Glendalough and other reconstructed Viking ships were made..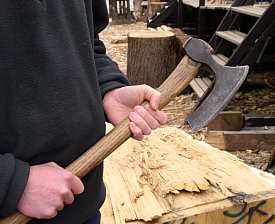 A special axe - in Danish called a Bredbil - is used in building reconstructed Viking ships even though a specific cut from this axe has not yet been detected on the labatory yet. But it is known that this type of axe existed in the Viking age and was used Photo: Michael Borgen
On the island is also found the archaeological laboratory, where Ivan Hansen works. The idea behind the laboratory was, among other things, to create a place where shipfinds from the entire country could be measured and analyzed. But while working on the island itself, nine wrecks were found in the seabed on the very site. Two of the so-called Roskilde-ships dated from the Viking Age. One was a longship that, with a total length of 36 meters, was actually longer than The Sea Stallion from Glendalough that has now been reconstructed.
Since the finding, Ivan Hansen has mainly been busy analyzing and measuring the nine ships that were found when his laboratory was built.
Today, the technology is far more refined than it was when the Skuldelev ships were found in 1962. Back then, the wood was not studied nearly as thoroughly as it is today.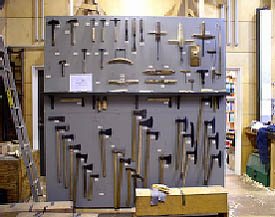 A wide selection of tools for building the viking ships in Roskilde Photo: Michael Borgen
Using laser, Ivan Hansen scans the contours of every single piece of wood on his computer. Ivan Hansen can recognize the toolmarks and traces of each particular tool used in the building, and often, he can see exactly how it was used, too.
Regularly people are called in from the shipyard to see a particularly interesting axecut, after which the shipbuilders try to copy the cut on the new longship.
Written and edited by Michael Borgen
Translated from Danish by Kaare Johannesen