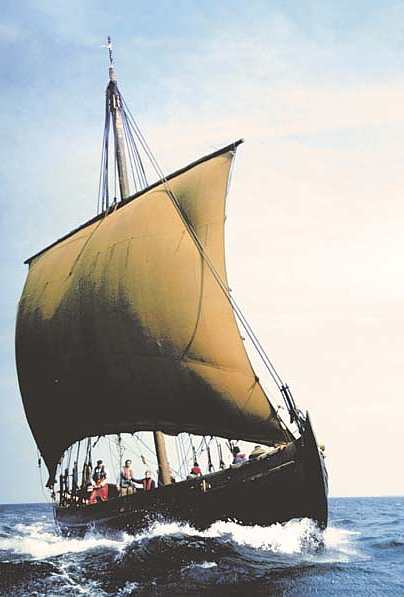 Photo: The Viking Ship Museum
The Ottar is a true trading ship. Chubby, spacious, and extremely seaworthy. It was probably ships of this type that the Vikings termed a knarr, and which were used for long-distance trade. Large ships like this were able to make the journey to Greenland and Iceland. A Norwegian ship of the Skuldelev 1-type circumnavigated the world in the 1980´ies.
Being a true trading ship, the Ottar features large storage rooms amidships. The ship is not easy to row, as the heavy hull was not primarily constructed for rowing.
Instead, the Ottar features a remarkably large sail, woven from the wool of the Norwegian spelsau-sheep. Like the sail, the entire rigging is entirely handmade, from hemp and horse hair.
Facts about the Viking ship
Type: Seagoing trading ship, replica of the Skuldelev 1

Minimum crew: 6 persons

Maximum persons: 15

Number of oarsmen: 4

Hight of mast: 14 meters

Sail area: 90 m2 wollen sail

Overall length: 16,5 meters

Weight: 6 tons + 17 tons ballast

Width: 4,5 meters

Depth: 1,3 meters (fully loaded)

Building: 1999 - 2000

Builders: the Viking Ship Museum, Roskilde, Denmark

Owner: the Viking Ship Museum, Roskilde, Denmark

Native Harbour: Roskilde, Denmark

Contact: mr. Poul Nygaard, phone (+45) 46 30 02 00

Terms of hiring: Renting is not possible